Posted by Offroad Source on Nov 11th 2022
Here at Offroad Source, we are about EVERYTHING Jeep. We love the way they ride, we love all of the wicked cool stuff we can do with them, and one of our absolute favorite parts is how they look. So, we are starting a thing here, and we are going to call Jeep Double Take. These articles are going to take a look at some of the coolest looking Jeeps in all kinds of color schemes. This one is on some wicked looking White Jeeps we've come across that sport Black Rims. Check out these builds and you'll quickly see why they made our Double Take list.
Best White Jeeps on Black Rims
Here they are, some of the coolest White Jeeps we could find sporting sick Black Rims… and some other things as well.
Best of the Best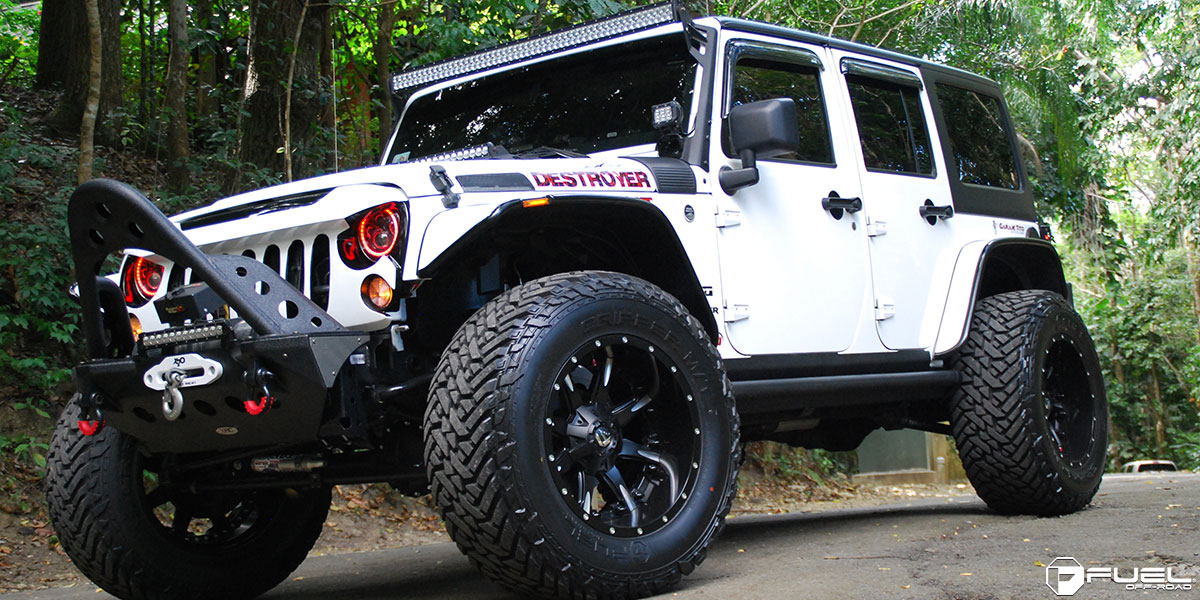 Here is the baddest Jeep in this lineup. This Jeep Wrangler JK sports all kinds of cool add-ons that set the look and feel over the top. Let's start with the Smittybilt stinger bumper giving this Jeep Wrangler one of the meanest profiles we have come across lately. That goes into the sick HALO headlights that make this Jeep look like it wants to eat whatever happens to be in front of it for a one of a kind presentation. The lightbar is a cool touch, but the detail that brings it all together is that Pearly White paint finish against those 20" Black Fuel Offroad Nutz D541 rims. Just an awesome looking build that we are proud to have helped create.
Just Clean…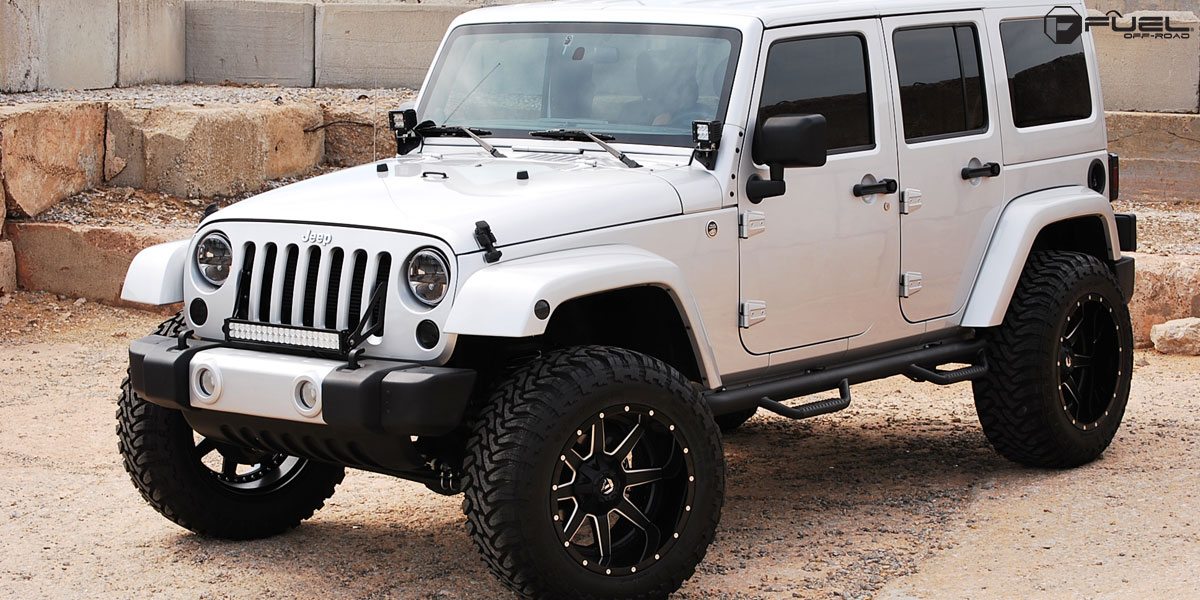 Now here is just a classic example of doing just enough to look good, but not trying too hard. This Jeep Wrangler JK has a clean finish, tinted windows, but doesn't go over the top when it comes to the body mods, just a couple lighting touches on the bumper and lighting accents by front corners of the cab. What sets this build apart as one of the ones we like the most is the 20" Fuel Offroad Maverick D610 rims they have on the Jeep. These rims are ultra stylish, and absolutely compliments the white paint finish of this Jeep… Well done.
The Gladiator Is Here!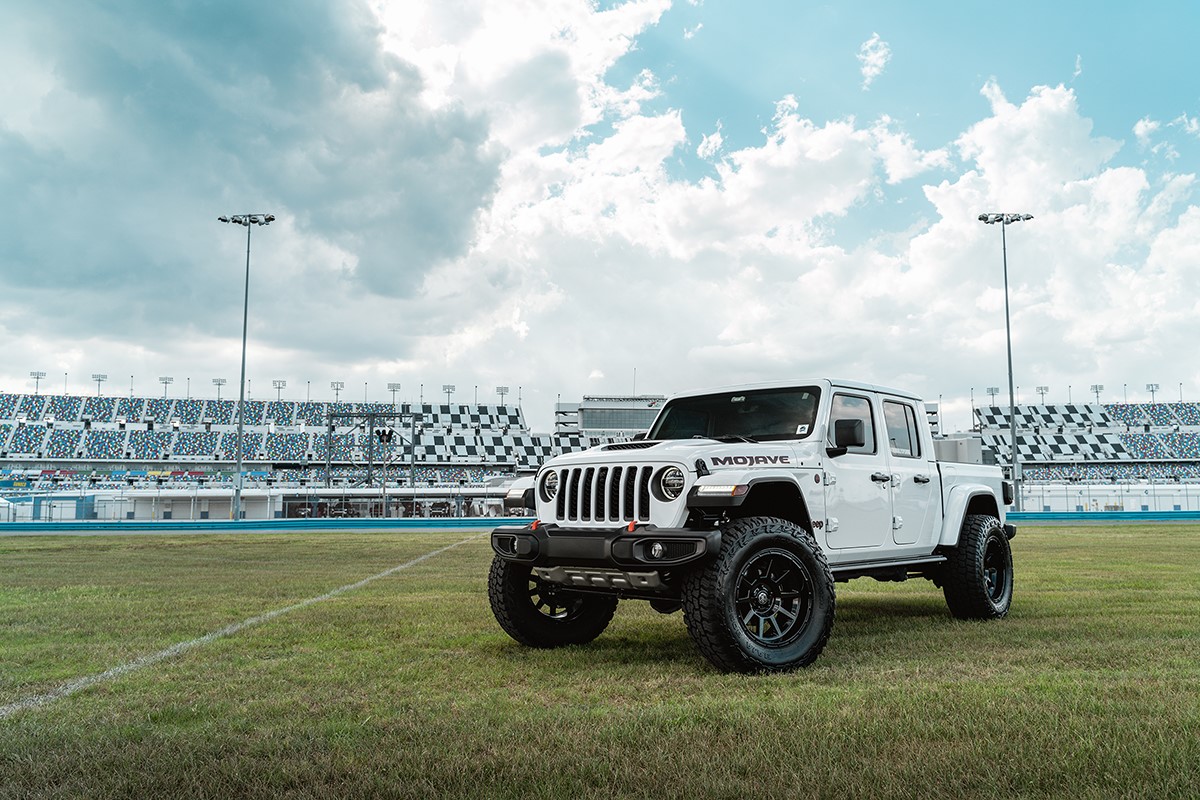 You know we couldn't have an article about the sickest White Jeeps with Black Rims and not include a couple 2021 Jeep Gladiators. This Jeep Gladiator Mojave has a stellar profile that screams this truck can handle it. We love how the owner went light with the body mods, but grabbed a set of some of the hardest Jeep wheels on the market. These 20" Icon Alloys Recoil rims give this 2021 Jeep Gladiator an aggressive stance that looks like a ton of fun to have on the road, trail, or mud run.
Classic Jeep Gladiator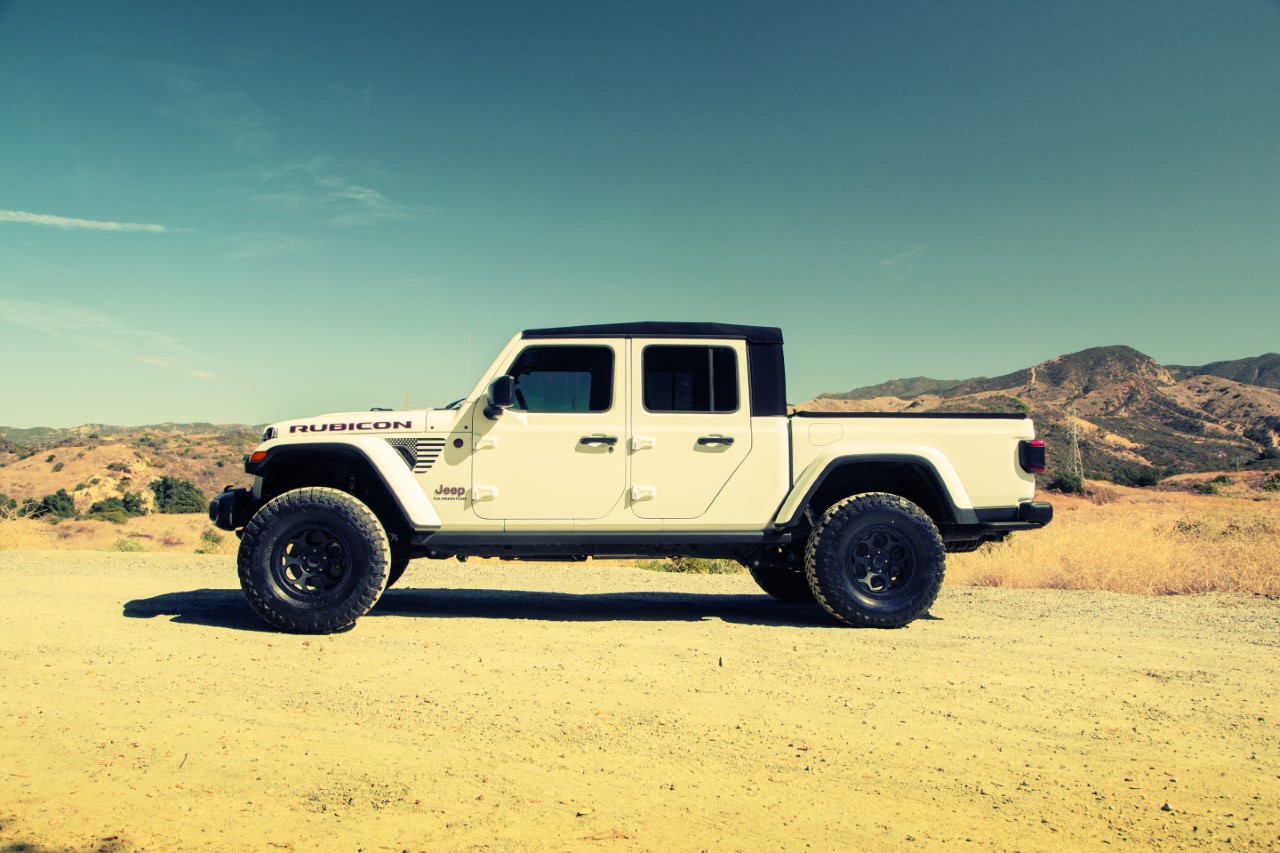 This 2021 Jeep Gladiator Rubicon looks stunning here in the desert landscape. The white finish really looks great with the Black set of wheels the owner chose for their ride. Much like the other Jeep Gladiator we featured earlier, this Jeep Gladiator Rubicon is doing just enough to be really cool, without trying too hard. This is just a clean, simple look that really fits the No Nonsense kind of feel that comes with a Jeep Gladiator. The fact that the rims they chose are 20" Kmc KM541 Dirty Harry wheels is just a bonus. We just think they have a wicked cool name, plus they look amazing.
Your Bonus Jeep!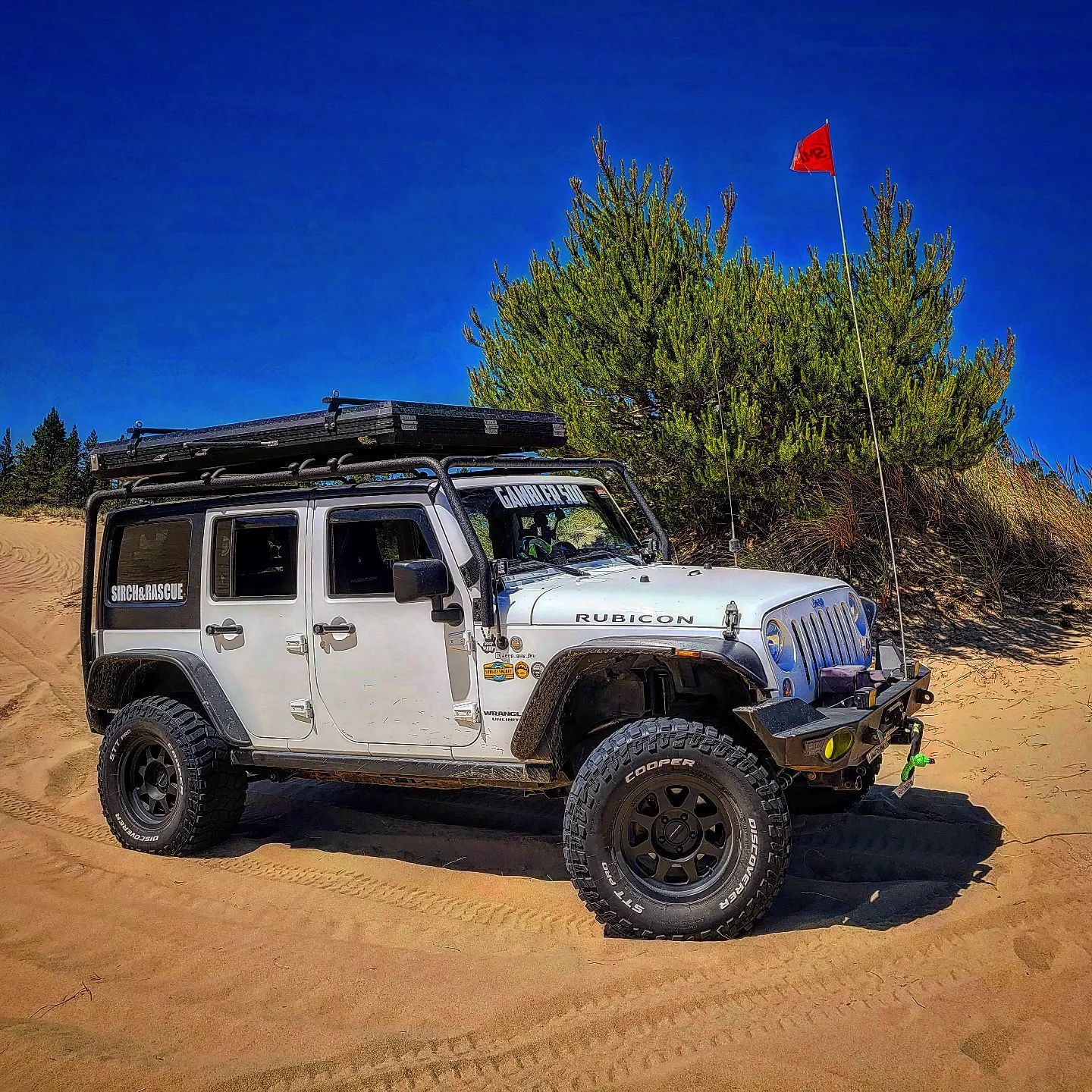 Here is a Jeep Wrangler JK that we absolutely loved. From the aftermarket front and rear bumpers and winch, to the roof rack and decals, this Jeep Wrangler just looks like it is a ton of fun. Now, the main reason we chose this Jeep Wrangler besides its overall cool aesthetic is the wheels the owner chose. These are 17" Method Race Wheels. The Method MR701 Beadgrip wheels give you the ability to deflate your tires to lower levels without you having to have beadlock wheels. Deflating your tires puts more of your tire surface in contact with ground and increases your traction, as well as making for a smoother ride… See, not only do we have cool Jeep parts and accessories, but we teach you stuff too.
Till Next Time…
When it comes to cool Jeeps, there is no better place to go than Offroad Source. We carry the Top Jeep wheels, performance parts, suspension kits, and vehicle accessories on the market. You can have a Jeep that's as cool, if not cooler, than any of the Jeep's we featured in this article. All you have to do is log on to Offroad-Source.com and start your journey towards a better looking, better performing Jeep today.